Democrats, and the mainstream media's continuous spread of lies, and hatred is dividing America further and further every day.
A 41-year-old North Dakota man was arrested over the weekend for allegedly fatally striking a teenager pedestrian with his car following a "political argument."
What's worse, is the suspect was released from jail on Tuesday after posting a $50,000 bond and spent just days in a Stutsman County Jail.
Shannon Brandt, 41 is a resident of Glenfield, North Dakota. He was arrested early Sunday morning after he allegedly admitted to law enforcement that he "struck the pedestrian because the pedestrian was threatening him" according to an affidavit obtained by Fox News Digital on Wednesday.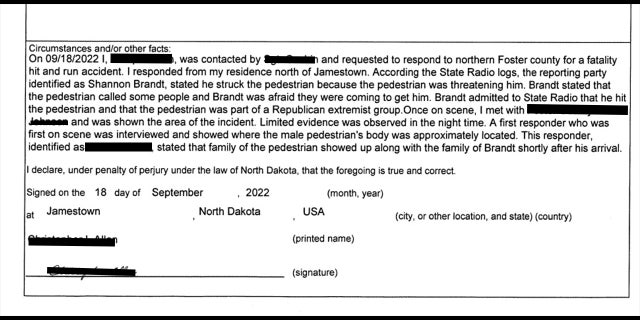 "Brandt stated that the pedestrian called some people and Brandt was afraid they were coming to get him," the document reads. "Brandt admitted to State Radio that he hit the pedestrian and that the pedestrian was part of a Republican extremist group."
The North Dakota Highway Patrol reported on Sunday that there was a "street dance" on Jones Street near Hohneck Street in McHenry when the fatal incident happened and the suspect (Brandt) had fled the scene.
Cayler Ellingson, the teenager had sustained fatal injuries and was rushed to the hospital, where he was unfortunately pronounced dead.
Ellington's mother described that she was on her way to pick up her son from McHenry when he called her and reported "that 'he' or 'they' were chasing him," and she was unable to reach him after the last call.
Investigators tracked Brandt and his Glenfield home. He was found outside the residence, and upon being confronted by law enforcement, he began talking and admitted to "consuming alcohol prior to the incident."
"Brandt admitted to striking the pedestrian with his car because he had a political argument with the pedestrian and believed the pedestrian was calling people to come get him," the court documents reveal. "Brandt admitted to leaving the scene of the incident and returning shortly after where he called 911."
A breathalyzer test conducted later showed Brandt's blood-alcohol levels were above the legal limit of 0.08.
Brandt was finally charged with criminal vehicular homicide and leaving the scene of a crash involving a death and driving under the influence. But was soon released just days after posting a $50,000 bond.
What do you make of this incident? Share your thoughts in our Facebook comments!